GOP establishment plot to sabotage the Donald?
Was the infamous Trump tape in which the Republican candidate made lewd remarks about women leaked by Dan Senor, Paul Ryan's top advisor?
That's the story swirling around the Internet after Senor's wife, former NBC reporter Campbell Brown, appeared to confirm the claim.
Brown quoted a tweet that said, "Rumblings that Campbell Brown and Dan Senor are behind the Trump tape leak," and then responded, "Yep. Still having fun after all these years. Key to a happy marriage."
Mike Cernovich
✔ @Cernovich
.@dansenor Writing about #BillyBush tapes, hearing your wife (ex NBC) got a hold of tapes and you pushed the story for your boss. Comment?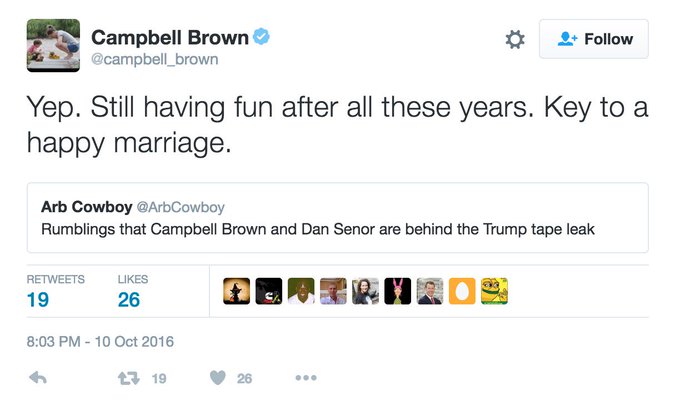 Dan Senor himself later reportedly denied the claims, telling CBS News the story was "ludicrous".

Mosheh Oinounou  
✔ @Mosheh