Leftist Gunman Shoots Republican Congressman in Media-Inspired Terror Attack
Attacker deliberately targeted Republicans
Congressman Steve Scalise was shot this morning in a politically motivated "targeted attack" by a leftist who deliberately sought out Republicans.
The shooting took place during a practice for the GOP congressional baseball team in Alexandria, Virginia. The suspect was shot by Scalise's security detail and is now in custody. Other reports say he was killed.
"He had a rifle that was clearly meant for the job of taking people out, multiple casualties, and he had several rounds and magazines that he kept unloading and reloading," said Michigan Rep. Mike Bishop.
"Scalise, a member of the House Republican leadership as the majority whip, appeared to have been shot in the hip and it appeared two Capitol Hill police agents were shot, according to Rep. Mo Brooks," reports CNN.
According to CNN analyst Rebecca Berg, the gunman had a conversation with Rep. Jeff Duncan before the shooting began in which he asked, "Are those Republicans or Democrats out there practicing?"
Rebecca Berg
✔ @rebeccagberg
I'm told Rep. Jeff Duncan plans to give a statement to police regarding a conversation he had with the shooter before leaving practice early
The man was wearing running clothes, asked Duncan: "Are those Republicans or Democrats out there practicing?" Per source familiar.
This strongly suggests that the shooting was a terrorist attack carried out by an anti-Trump leftist.
"I think we're lucky that Scalise was there because this was his security detail, without them it would have been a massacre," said Senator Rand Paul, who was at the scene when the shooting happened.
We have been warning for months that the mainstream media's hysterical anti-Trump narrative and the left's insistence that Trump is illegitimate will radicalize demented social justice warriors and prompt them to lash out with violence.
It looks like that's exactly what happened today. The blood is on their hands.
Majority whip Steve Scalise on a stretcher as he's evacuated after shooting in Alexandria.
The media, the left and Hollywood must stop legitimizing violence and return to the realm of civil discussion and proper tone.
"We are deeply saddened by this tragedy. Our thoughts and prayers are with the members of Congress, their staffs, Capitol Police, first responders, and all others affected," said President Donald Trump in a statement.
CNN blamed the gun, not the actual gunman.
 
Speaking on Alexandria shooting, CNN uses language to frame the GUN as sentient.
If it was a Trump supporter they'd use different language.
Leftists responded by blaming guns, despite the only reason no one was killed being that the good guys had guns.
Others celebrated the attack because they claimed Congressman Scalise was racist.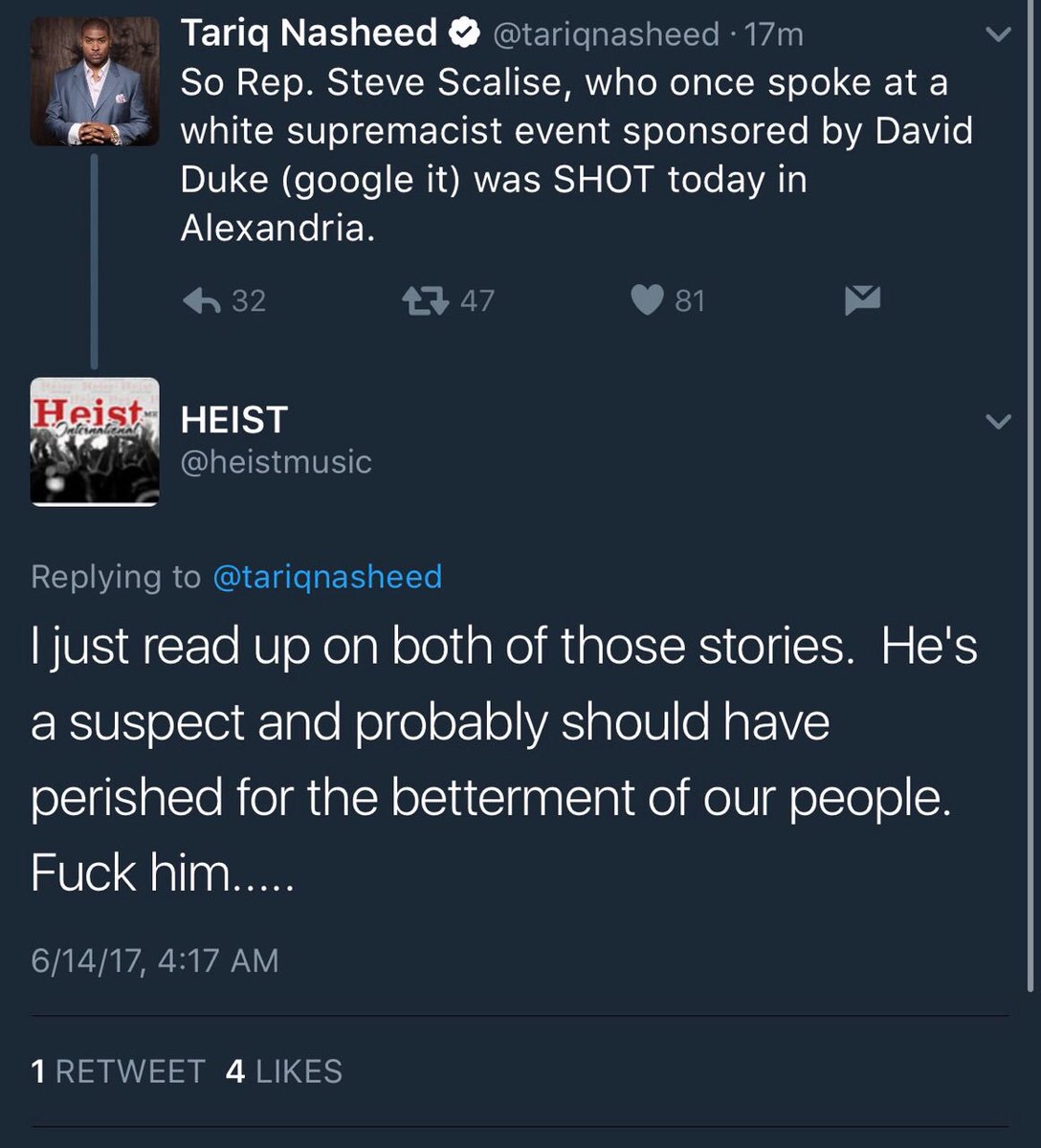 Tariq Nasheed and his followers are celebrating Alexandria the start of a race war