Trump rallies support as Soros opens wallet…
The first major special election of 2018 begins two months from now in Pennsylvania, and the result could offer a clearer view of the political climate as the midterm elections approach.
On March 13, voters in Pennsylvania's 18th Congressional district will cast ballots in a special election to replace former Republican Representative Tim Murphy, who resigned following reports he encouraged a woman with whom was having an affair to have an abortion.
The Republican candidate is state Representative and former Air Force counterintelligence officer Rick Saccone, while the Democratic candidate is former federal prosecutor and Marine Corps veteran Conor Lamb.
President Trump tweeted his support for Saccone, who has described himself as "Trump before Trump was Trump," before traveling to the district to campaign for him last week. In addition, The Congressional Leadership Fund, a super PAC tied to House Speaker Paul Ryan, announced it will open two field offices in the district with 50 full-time canvassers.
Vice President Mike Pence is scheduled to travel to the district next month and campaign for Saccone.
________________________________________________

Donald J. Trump
✔ @realDonaldTrump
Will be going to Pennsylvania today in order to give my total support to RICK SACCONE, running for Congress in a Special Election (March 13). Rick is a great guy. We need more Republicans to continue our already successful agenda!
___________________________________________________
Lamb, who has cast himself as a moderate, attracted headlines when he announced he would not support House Minority Leader Nancy Pelosi for Speaker of the House should Democrats recapture control of the chamber in the 2018 midterms.
"The one fact that has remained the same this year – whether Democrats have won or lost [recent special elections] – is Democrats are doing better in terms of turnout and enthusiasm," said Kevan Yenerall, a social sciences professor at Clarion University, during an interview with Fox News.
Pennsylvania's 18th congressional district is located in the western part of the state near Pittsburgh, encompassing parts of Allegheny, Greene, Washington and Westmoreland Counties. President Trump handedly won the 18th district by over 20 points.
Unlike many urban areas, the Pittsburg metropolitan area has been trending Republican for decades. While Massachusetts Governor Michael Dukakis won around 60 percent of the vote in the Pittsburg metro area in the 1988 election, Hillary Clinton gathered only 47 percent of the vote in 2016.
Registered Democrats actually outnumber Republicans by nearly 70,000, a testament to the strength of organized labor in the district. Despite the higher number of registered Democrats, the district has a Cook Partisan Voting Index (PVI) of Republican plus 11.
David Byler
✔ @databyler
First important thing is where PA-18 is and what that means. It's got some rural areas + southern suburbs of Pittsburgh. pic.twitter.com/VDhcTiYH7Y
 

And Pittsburgh has been changing *a lot* politically. This is a gif of maps that my friend @JMilesColeman made (Miles made these really great maps, I just stuck them in a gif maker).

Illustrates how Ds have kept the core of the city but lost outlying areas. pic.twitter.com/QxPyQGIZNh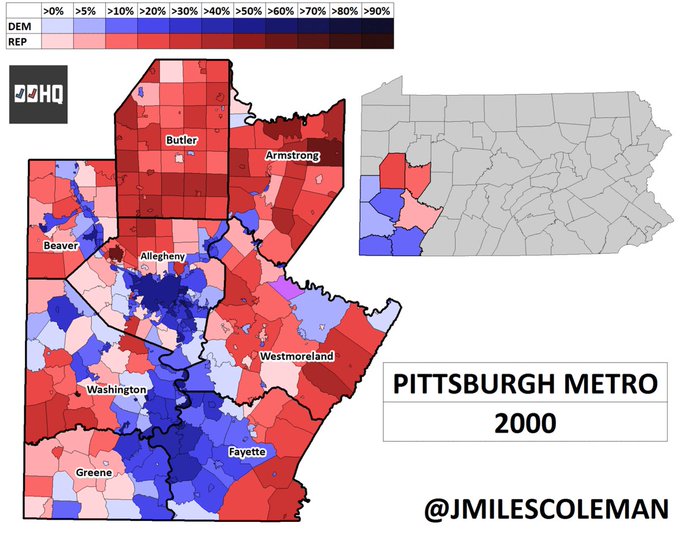 While polling has shown Saccone with a lead, the average Republican running in a Congressional special election since Trump took office has underperformed Trump's margin of victory by approximately 11 percent.
Of the five congressional special elections held since Trump was elected, only Karen Handel in Georgia's 6th district and John Curtis in Utah's 3rd district have matched or outperformed Trump's margin of victory (by 2 percent and 8 percent respectively).
Ron Estes in Kansas' 4th district underperformed Trump by 21 percent, while Montana's at-large representative Greg Gianforte underperformed Trump by 14 percent. In addition, Republican Ralph Norman underperformed Trump's margin of victory by 16 percent in South Carolina's 5th district.
While a Democratic victory in Pennsylvania's 18th district would be devastating to Republicans, a closer-than-expected margin of victory for Saccone would be another indicator of serious difficulties for Republican efforts to maintain control of the House.
Socialist billionaire George Soros has already spent a record amount to influence elections in the US – as well as the public's perception of Trump worldwide.
"Liberal billionaire George Soros spent more on lobbying during President Donald Trump's first year in office than he has in any previous year, disclosure forms show," reported the Washington Free Beacon. "The Open Society Policy Center, a D.C.-based 501 (c)(4) nonprofit that focuses on domestic and international advocacy efforts and is a separate entity from Soros's Open Society Foundations, poured $16.2 million into lobbying throughout the entirety of 2017."
"…The group's disclosure forms also show that Soros has recruited the help of a number of outside lobbying shops in the past including Orion Strategies, the Mitchell Firm, and Glover Park Group, all D.C.-based firms, on top of its three in-house lobbyists."
It's also worth noting that Soros is well-connected to voting machine companies in the US, including Lord Mark Malloch-Brown, the owner of Smartmatic who also serves the Open Society Foundation.