Anti-fascist groups, Black Lives Matter supporters and others gathered in cities in states from coast to coast
August 14, 2017
Thousands gathered in cities across the US on Sunday in response to the shocking violence seen at Charlottesville's 'Unite the Right' rally on Saturday.
Anti-fascist groups, Black Lives Matter supporters and others gathered in cities in states from coast to coast, including a planned march on Trump Tower in New York, a candlelight vigil in Florida and a rally in a public square in Cleveland.
In many cities the events were loud but peaceable – however, things took a nasty turn in Seattle, Washington, when antifascist protesters were blocked from reaching a pro-Trump 'Freedom Rally' in Westlake Park.
The antifascist group – some holding signs with anarchy symbols – faced off with police in riot gear and sprayed them with Silly String.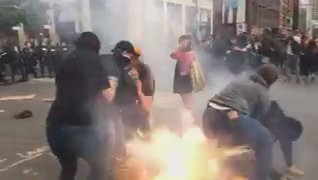 RIGHT NOW: Tense scene in Seattle as police deploy flash bangs and pepper spray